Estimated reading time: 7 minutes
As a busy professional, a parent, a student, or anyone who juggles responsibility, finding the time to cook healthy meals at home can be a challenge. Between work, errands, and managing a household, it's easy to fall into the habit of ordering takeout or grabbing something quick and convenient, even if it's not the most nutritious option. We all know the benefits of meal planning but often don't commit to it for long. The trick is in finding meal planning tips which actually work for you.
Plan meals together! Share this plan with your family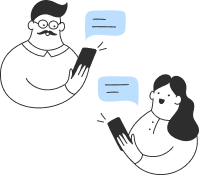 After all, lifestyles and food are never a one size fits all solution. Prepping on a Sunday night might not work for you if that's when your family time is most important. Or perhaps you hate eating day-old lettuce. Finding the right approach is crucial.
7 meal planning tips to save you time and money
When you get it right, meal planning can help you take control of your time and your health. It allows you to plan ahead and have healthy meals ready when you need them. And as a bonus, you often spend less money on ingredients as well as on power and gas too when you prep your food in advance. Which means more money and time to spend on what's important to you.
Here are some meal planning tips to get you started.
1. Set aside dedicated meal planning time.
One of the keys to successful meal planning is to set aside dedicated time to plan and prep your meals. That's why it's one of the most common meal planning tips. Simply put, it works.
This could be as little as 30 minutes per week, or you may want to spend a few hours on the weekend preparing a bunch of meals in advance. The exact routine and amount of prep you do depends on your needs.
The important part is to choose a time that works for you and stick to it. Most people choose Sunday afternoon but there's no hard and fast rule. If you find that Fridays and Saturdays are the times you reach for takeout, try prepping your meals on a Wednesday or Thursday. If it's office lunches that trip you up, try just chopping up some vegetables and roasting a chicken over the weekend before.
2. Make a list of meals for the week.
One of our best meal planning tips is to take a structured approach. Before you start prepping or shopping, take a look at your schedule for the week and make a list of the meals you want to make.
Consider factors like how much time you have for cooking each day, whether you have any healthy eating goals or dietary needs, any events or activities that may affect your schedule, whether you'll eat leftovers for lunch or not, and the preferences of anyone you'll be cooking for. This will help you create a balanced meal plan that meets your needs. It's much easier to prep when you know exactly what's going on the menu for the week.
3. Plan to use leftovers in meals
One of the biggest time-savers when it comes to meal planning tips is to make provision for leftovers. Whether you're making a big batch of soup or roasting a whole chicken, having extra servings can be a lifesaver on busy nights. It means you don't need to cook a whole new meal and can either eat extra portions for lunch, or can repurpose ingredients for an entire new meal.
This takes a bit of planning and getting used to. But once you've figured out how to use a chicken for three different meals or how to turn leftover soup into pasta sauce the next day, you'll find yourself spending less time cooking.
Make sure to store your leftovers properly to keep them fresh and safe to eat.
Create your own recipes from scratch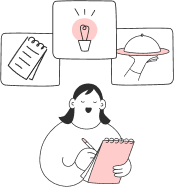 4. Use batch cooking and meal prep techniques.
Batch cooking and meal prep can help you save time by allowing you to prepare a bunch of meals in advance. For example, you could cook a batch of grains (like rice or quinoa) and a batch of protein (like beans or tofu) on the weekend, and then use them to create quick and easy meals throughout the week. Rice could be used for paella, fried rice, stir fry, and pot roast all in one week, for example.
Or you could prep ingredients for a few meals in advance, so all you have to do is throw them together when it's time to cook. This might mean chopping up all your onions and carrots for crock pot meals and portioning them out, or it could mean marinading and cutting meat for meals in advance.
5. Keep a well-stocked pantry and fridge.
Having a well-stocked pantry and fridge can make it much easier to whip up a healthy meal on short notice. Your pantry is particularly useful as you can store products with a long shelf life. Condiments, sauces, spice mixtures, and tinned goods are very versatile and can quickly change a dish from bland to flavorful in a matter of minutes. A splash of soy sauce, dash of mustard, or shake of chilli powder can all change the flavor profile of a dish and add variety to your meals without much extra effort.
Keep a variety of grains, beans, and protein sources on hand. Combined with plenty of fresh and frozen fruits and vegetables, you'll have the flexibility to create a variety of meals without having to make a special trip to the grocery store. And remember to use up perishable ingredients first wherever possible.
6. Use a meal planning app or tool for tips and tricks
There are plenty of apps and online tools available to help you plan and track your meals. Did you know that Samsung Food does it too? Yep, we're not just a recipe finding app. Instead, our meal planning and digital cookbook features make it easy to plan, shop, and cook delicious meals all in one place. And we'll even track your nutritional intake so you can make sure you're getting the right balance of protein, fat, and carbs for your needs.
With a wide range of healthy recipes and meal planning tools, Samsung Food can help you save time and eat healthier. And you can even share your meal plans with others, so everyone knows what's for dinner. Download Samsung Food now to see for yourself.
Bonus tip: don't be too hard on yourself.
Finally, remember that meal planning is a process, and it may take some time to get into the swing of things.
Don't be too hard on yourself if you don't get it right every time. Just keep experimenting and you'll eventually find a meal planning routine that works for you.