As the days get longer and warmer, it's time to fire up the grill and start BBQ season! There's very little we love more about the summer than grilling and gathering over great food and drinks.
From burgers and hot dogs to juicy steaks and fall-off-the-bone ribs, there's nothing quite like the taste of food cooked over an open flame. And these days, there are loads of plant-based options too, from vegan patties to delicious veggie kebab skewers. Whatever you like to eat, we know one thing: being crowned King of the Grill (or is that barbecue?) is the ultimate accolade this summer.
Luckily, we're all about making cooking simple and delicious. So, here's the lowdown on Whisk's top tips and tricks to impress everyone at your next barbecue with your grill skills.
Prep your grill
Before you start cooking, make sure your grill is clean and in good working condition. Scrub the grates with a wire brush and make sure the burners are clear of any debris. It's probably been a while since you used it, and the last thing anyone wants is the taste of dusty steak ruining their evening.
If you're using a gas grill, check that the propane tank is full and the connections are secure. For charcoal grills, make sure you have enough charcoal and that it's evenly distributed.
This grill cleaner from GrillArt (coupled with a little bit of elbow grease ) will leave your grill shining: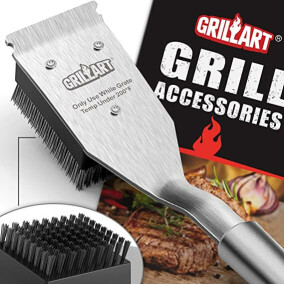 GrillArt Grill Cleaner – $12.69
Marinate your meat
Marinating your meat is a great way to add flavor and tenderize tougher cuts. Purists say that steak, in particular, should never be marinated – but if it makes your meat more tender and tastier, we say go for it.
You can use store-bought marinades or make your own using ingredients like olive oil, vinegar, herbs, and spices. For best results, marinate your meat for at least 30 minutes (or up to several hours) before grilling. If you do it the night before, you can get head on washing up too. Barbecue and smokey flavors go great with beef, and lamb works well with herbs, garlic, and lemon.
Looking for inspiration? We love these jerk and BBQ marinades which are amazing for both chicken and beef.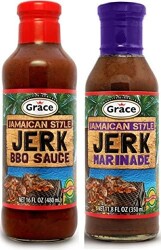 Jerk and BBQ Marinade Pack – $19.50
You can also visit the BBQ Lovers community on Whisk for homemade recipes and discussions about all things grilling, flames, and barbecues.
Get the right temperature
Just like cooking with an oven or a stove, temperature control is key. It's a bit harder to monitor over an open flame than it is when you're cooking indoors, but that's where an incredible instant-read thermometer comes in.

For burgers and hot dogs, preheat your grill to medium-high (around 375°F). For thicker cuts of meat like steaks and pork chops, you'll want to start with a higher heat (around 450°F) to sear the outside and then lower the heat to finish cooking.
If you want to ask your friends 'how do you like your steak done?' and actually deliver on it perfectly every time, a thermometer is a really worthwhile investment. Seriously, it'll change your grilling life – and you can use it for other cooking too.
The ChefsTemp Finaltouch X10 has been voted among the best there is, with a reading time of only a second and accuracy of within one degree. https://bit.ly/3KZe2jn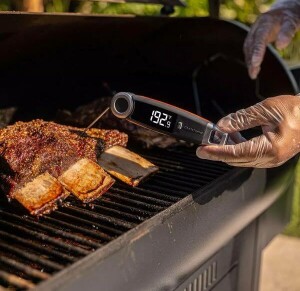 ChefsTemp Instant Read Thermometer – $69.99
Use the right tools for the job
It's true that a bad workman always blames his tools BUT it's also true that having the right equipment can make grilling easier and safer. And tastier! You don't need to have every gadget under the sun, but much like cooking, having quality basics will improve your results dramatically.
Invest in a good set of tongs, a spatula, and a meat thermometer to check the internal temperature of your meat. You may also want to consider using a grill basket or a foil packet to cook smaller or more delicate foods like vegetables and fish.
This wooden-handled set is affordable, covers all bases and even comes with a pouch to keep everything safe and organized!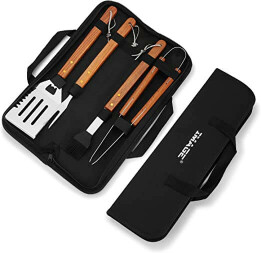 BBQ Accessories Set – $22.99
Don't forget the sides
While the meat is often the star of the show, don't forget about the sides! Good side dishes have the ability to make or break your summer barbecue get together, especially if you aren't doing a potluck.
Grilled corn on the cob, green salad, baked beans, potato salad, and coleslaw are all classic BBQ sides that are easy to make and always a hit. But you don't have to stick to the usual suspects. You could always go for chargrilled vegetables, a Middle Eastern inspired feast of cold meze-type dishes, or a fruit-based salad for a hot day.
Join our BBQ salads and sides community for for fresh ideas and recipes to suit every grilling occasion.
End on a sweet note
Finish off your BBQ feast with a sweet treat. You could go with an easy tray baked classic like brownies or pound cake.
If you want to use the fire, frilled fruit like peaches, pineapple, and watermelon are delicious and easy to make and pair well with ice cream. Or you can also try making s'mores using a grill basket or roasting marshmallows over the flame.
With these tips, you're ready to make the most out of your BBQ season. Whether you're grilling up a feast for friends and family or just enjoying a quiet night at home, there's no better way to celebrate the warmer weather than with a backyard BBQ. So fire up the grill and let the good times (and good food) roll!