Meet Sophie Bakas, a baking extraordinaire and the creator behind those festive gingerbread cookies that had everyone feeling the holiday spirit this December. But Sophie's love of baking goes beyond just the holiday season – it's a passion that runs in her family.
"I think my biggest inspiration is, indeed my family," she says. "My parents are bakers. They're both pastry chefs. They are the ones that really introduced me to the baking environment. And they're the ones that taught me to bake and everything I know about food. And especially my dad. He was always the one who would take time to explain me how things are made. And that it's really a family thing. It's about the time you spend in the kitchen, baking together. And so I do remember my dad explaining to me how you need to do things, and giving me all the little tips and tricks."
Sophie on sharing the love over the dinner table
At Samsung Food, we reckon that any childhood spent around food is probably a happy one. When we asked Sophie about her earliest memories of cooking and food, it's the sense of family and community that she remembers first. "My first recipe I made was with my dad again. And it was an apple tart. I was, I don't know – four or five years old. And he was explaining that you to take the fork and poke holes in the dough. He was so passionate about his work that he wanted to just explain it to me and just share that with me. And so often parts are just so sentimental for me. I think it's about the moments you spend together and the lovely memories you make."
Create your own recipes from scratch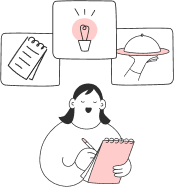 It's clear that Sophie is a big fan of people coming together over food, even years down the line. "The best recipes, for me, are the ones that gather people together. So for me that's crepes, because every Sunday, we make them and we will sit out together and eat. I've been doing that every Sunday since I was 10 or something. They're easy. They're super yummy. And you share them. You know it's gonna be amazing every time. So for me, I love when recipes are easy, quick, and you know, it's gonna be delicious."
And what better way to connect with loved ones than over memories made by delicious food? For many of us, Christmas is the epitome of time spent bonding with loved ones – especially where food is involved. If you follow Sophie on TikTok, Instagram, or Samsung Food, you'll notice a lot of Christmas recipes. "For me, Christmas is really just the best time of the year" she says. Why? "Because it's gathering people and sharing. And I always gift my little cookies to people because I think it's the best gift. It's something you made."
A sneak peek into Sophie's world
Becoming a food creator is a dream career for plenty of aspiring home cooks and eve pro chefs. But how do you carve a career out of something so niche? For Sophie, it evolved organically. She explains "for me, it wasn't really the plan. It wasn't a career. It was just for fun. Social media has changed my view on things. But I would still love to write a cookbook or even open a bake shop. I would love to do these things as well as being a creator."
And no matter how idyllic a job sounds, we all know that there are good days and bad days. Is being a food creator all it's cracked up to be? Sophie loves it, but admits that there are some harder moments. "If you give 100% and you think you've made the best recipe ever and you've put everything into it and then you get hardly any views – it can be disappointing. But I just try to be happy with what I get and remember that I used to be really excited if 200 people viewed my video."
Her other challenge is something which many of can relate to, whether we work with food, animals, computers, or anything else. "I also sometimes can feel a little bit alone," she explains, "because most people around me can't relate to the kind of challenges which come with being a creator. It's not something they understand or have a frame of reference for. And you always work alone so you have to be quite independent. So I'd love to have a team or people who understand things like contracts and deliverables for content creators. It would be nice to get second opinions or bounce ideas off other creators. So sometimes that can be overwhelming – but at the end of the day, it's all worth it because I'm doing what I love."
Luckily, Sophie also has a great support network. Her dad is her number one fan and is always cheering her on when a video goes viral or when someone has a question for her on social media. "He's really into it" she says. "He's so excited about me being a creator. He sometimes gives me ideas for the recipes. He gets so much happiness from it that it makes me even more excited to do what I do."
Sophie's advice for creators in the making
Sounds like a dream to you, even on the 'not so good' days? The Samsung Food Creator Academy is for upcoming content creators who want to scale their business.  As a fully-fledged creator, what's Sophie's advice for new foodie creators who want to carve a career out of social media and food?
The key, she says, is in staying true to yourself. "Well, I think it's important to really to make what you love. It's about you. If you don't do what you love, and what you do are passionate about, you won't be able to do it for a long term, and you won't be able to continue doing it. I remember at one point, I'd post recipes and they wouldn't get a lot of views. But it's fine, because it's what I love; baking and sharing my recipes. So you keep doing it, if you actually love what you're doing. You need to find your passion and share it with others. People will follow along because they see how passionate you are."
And one more thing, she reminds us. "Try not to copy others. And try not to compare yourself to others. Just be in your little bubble and do what you want to do. And it will work out."
And why is Samsung Food her go-to food platform? We might be a little biased, but Sophie agrees that…well…we're just the best! 😉 "I love how easy it is to add and share recipes, to share those recipes outside of the app to other social media, and how you can keep all your recipes in one place" she says. "That's why I always prioritize Samsung Food on my social media and always put my recipes there instead of anywhere else."
So, whether you're a seasoned chef or an aspiring home cook, take a page from Sophie's book and remember that baking and cooking is about more than just the final product – it's about the memories and connections made in the kitchen.
Follow Sophie Bakas on Samsung Food to keep up to date with her latest creations.