If you're into plants, you're into Chloe Wheatland. The two go together like peanut butter and jelly, like salt and vinegar…or if you're an Aussie like Chloe is, maybe like vegemite and toast. Known on social media as @chloevegan, she's been blowing up the internet with the kind of plant based meals which could win over even the most die-hard of carnivores. From vibrant purple beetroot hummus to peanut noodles, Chloe is all about making plant-based eating delicious, accessible, and healthy.
Chloe was raised in a rural town in Australia and said she had a love of cooking from a young age. Her mom, who Chloe lives with, wasn't a huge fan of cooking – unlike many of our Whisk creators, who's love of food and being in the kitchen was fostered by their parents.
So where did Chloe get her inspiration? She was a lifelong dancer and has always been interested in health and wellness, initially wanting to make sure she had enough energy and stamina to dance to the best of her ability. When she was around 17, she went vegan. Alongside her passion for dance and her interest in living a healthy lifestyle, she started to show off her love of cooking and vegan food with the world – and now she's one of our go-to creators for healthy, nourishing recipes.
Want to know more about what made her into the Chloe Wheatland we know and love today? We talk healthy choices, life as a creator, and what spurred on the decision to go vegan.
Her healthy lifestyle
Chloe inherited her healthy eating habits from her mom, and says that one of her first memories of healthy eating is that she used to ask for strawberries every day. Except, she didn't! She couldn't pronounce the word, so always asked for a 'bowl of bodies.' Either way, the love of fresh fruit and vegetables started early.
It's unsurprising that she was raised in a healthy environment, and that her relationship with her mom is so strong. But what about the vegan side of things? Although she grew up eating eggs and seafood, Chloe says she didn't eat much red meat and always had plenty of veggies. During school holidays, she watched a Netflix documentary called 'What the Health.' After that, her and her mom decided to go vegan together. Despite not being the most enthusiastic cook, Chloe credits her mom for being really supportive of her decision to go vegan and says she's 'really grateful' for her help in easing the transition to a vegan diet.
As a long-term vegan and a health fanatic, Chloe is always happy to talk all things plant and wellness. And it's true that a vegan diet isn't the right fit for everyone. 'I don't believe there's a one size fits all approach' she says. 'You have to do what's right for your body and your lifestyle. My recipes are more about health than a certain eating plan. Obviously they're plant based and vegan, but there are so many different factors which affect diet. Your family, time, your body. I've found my sleep, my iron levels and my energy levels are better since I've gone vegan, but some people really struggle with that. So I think people should just do what works for them. I do supplement B12 and Vitamin D, and I occasionally take an omega supplement too.'
Seeing the healthy glow she always has in her videos, we'd say that's a pretty good endorsement of the Chloe Wheatland style of eating! Of course, she also stresses the importance of eating a variety of foods. For health benefits, you need a diet rich in both macronutrients and micronutrients.
Dive into our content and find culinary inspiration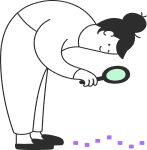 What does Chloe Wheatland eat in a day?
So what does a day of eating look like in Chloe's life? If you're looking to incorporate more healthy foods, prepare to be inspired! Typically, Chloe says she eats three meals plus snacks, and can't go to bed without a dessert of some sort! A day of food might look something like this.
Also, she drinks a green juice every day. If you're looking for a way to get some extra veggies, vitamins, minerals, and fiber into your diet, you might want take a leaf (yes, we did that!) out of the Chloe Wheatland book.
But if she could only have one dish for the rest of her life, Chloe says it's a toss up between nachos (with cashew chips), a peanut satay dish, or a curry with naan bread. Basically, she's all about delicious sauces!
Life as a creator
Chloe's initial journey into food creation started with mostly sweet treats. That's not because she prefers to cook those – although as she mentioned, she can't go to bed without one! – but mostly because she 'wanted to show that you can still eat sweet things which are healthy.' These days though, she does equal amounts savory and sweet recipes. 'Both inspire me, the main thing is making food which is easy, quick, and delicious and still healthy and satiating.'
Like Jared of airfryerpapi, Chloe also has a background in social media marketing. After she left school, she started managing social media accounts for local brands, particularly in the fashion industry. 'That's sort of where I learned about Instagram and TikTok and Facebook, and I used that for my own account.'
Taking her learnings from her time as a professional social media manager and her own experiences, Chloe says that 'being true to yourself is important. People want to see you and want you to be original. But I also think actually showing yourself, as in your face and voice and your personality, really helps people to be able to connect to you and your food. Helping people to know you as a person can help you grow, definitely. I don't have fancy equipment, just my phone and a few tripods and natural lighting. I wouldn't go and spend tons of money on crazy equipment as a new creator.'
Another common error Chloe says she sees new creators making is not captivating people in the first three seconds. 'We have short attention spans now, and you want to capture people straight away. Don't use loads of text, or take ages to get into the video, or have buttons covering important stuff. Grab their attention in the first couple of seconds.'
'When I decided that I wanted to take my work as a creator seriously, I decided to leave all my other jobs. It was so stressful initially – mentally, financially, emotionally. But being self employed was always a goal of mine and taking the risk paid off. The whole transition can be really scary but it's worth it.'
Now that she's made the leap, her other advice to creators is around making sure to retain some kind of work life balance, which is particularly hard when your work is on your phone and comes everywhere with you! 'Learning how to switch off has been hard for me and trying to have balance. I do my best through reading, meditation, and exercise to create balance. But it's definitely the thing I struggle with the most.'
Why does Chloe choose Whisk?
We always love to hear feedback about Whisk. For Chloe, the ability to easily meal plan and shop ingredients for her healthy recipes is a huge bonus. Especially as she wants to help people to adopt healthy habits.
As a creator, she also says that she loves how easy Whisk is to use. 'I love that I can just copy paste recipes into Whisk and reach a whole new audience there. And that people can save those recipes so quickly. It basically means I can help more people just by copy-pasting recipes I already have into Whisk.'
Want to find out more about Chloe Wheatland and follow her on Whisk? Download the free Whisk app so you can find all her recipes!